Related Articles
October 10, 2022
April 16, 2021
February 9, 2021
It's fair to say Bolivia isn't a world-famous culinary destination, with many of its dishes focused around the carb-heavy, pre-colonial staples of potatoes and rice. But there are a few mouthwatering local delicacies that are worth sampling for yourself. Here is our list of the yummiest Bolivian foods that must be tasted on your next visit to the country.
Bolivian Foods You Need to Try on Your Trip to Bolivia
Sajta de pollo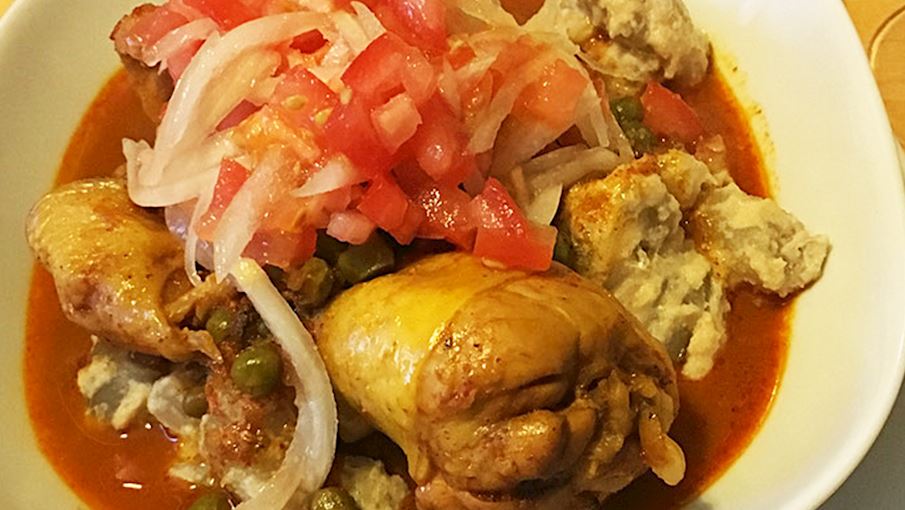 Sajta de pollo is a Bolivian dish consisting of chicken, onions, tomatoes, peas, and yellow chili peppers. It is typically flavored with parsley, celery, black pepper, garlic, and cumin. The dish is traditionally prepared for Carnival and the All Saints' Day.
When served, the sauce-drenched sajta de pollo is often accompanied by dehydrated potatoes, peanut sauce, regular potatoes, or plain rice. The dish is often garnished with finely chopped onions and tomatoes.
Sopa de mondongo
Sopa de mondongo is a term that is widely used all across Central and South America when referring to a hearty tripe and vegetable soup. The star of the dish is beef or pork tripe, the rather tough edible part of animal stomach which is cut into smaller pieces and cooked with other ingredients in a flavorful broth.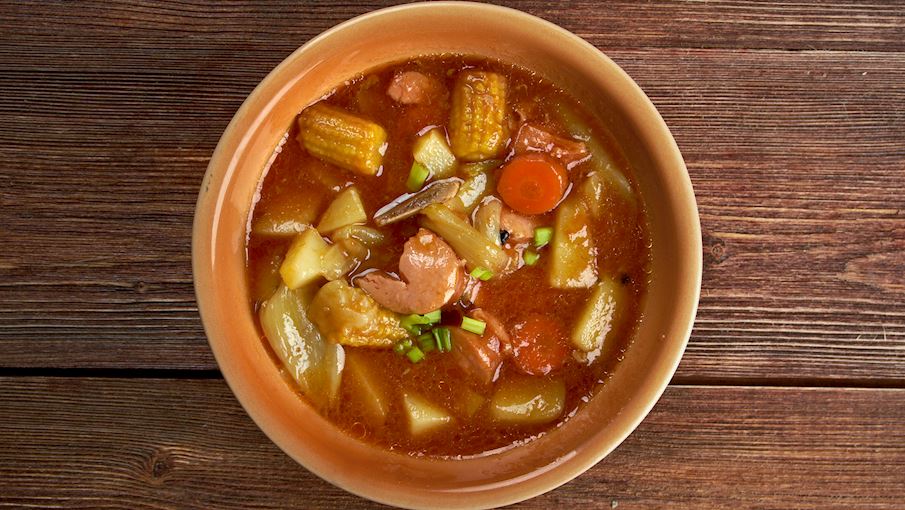 Different versions of the soup are found all across Latin America, where it has been adapted with locally available ingredients and spices. Typically, sopa de mondongo employs plain and sweet potatoes, cassava, corn, cabbage, plantains, onions, sliced avocado, and generous amounts of chopped cilantro, which is used as a garnish.
It is often spiced with cumin and the authentic Latin American spice called achiote. Local varieties commonly include additional ingredients such as lean pork meat, pork feet, Columbian chorizo sausage, and animal bone marrow. Because of its nutritious ingredients, it is usually regarded as a complete meal that is mainly served alongside white rice.
Sliced lemon or lime wedges and local tortilla varieties such as arepa in Colombia are often served on the side. Unusual additions may include raisins or capers in Puerto Rican versions, or peanut sauce in the Ecuadorian version, popularly called guatica.
In many Latin American countries, sopa de mondongo is believed to have healing properties, and it represents a traditional dish that is usually served for lunch or in the early hours after a night of clubbing.
Barbecued trout
Popularised in the 30s by an American fisherman, trout has a special place in the hearts and on the menus of Bolivians. Head to vendors on the shores of Copacabana for the freshest fish straight out of Lake Titicaca
Chambergo
Something for those with a sweet tooth. This sticky, glazed deep-fried dough is an astonishingly economical way to get your fill, with vendors selling them from just one Bolíviano (around £0.11) each.
Chairo
Chairo soup is most often found in kitchens of the Andes mountains region of La Paz.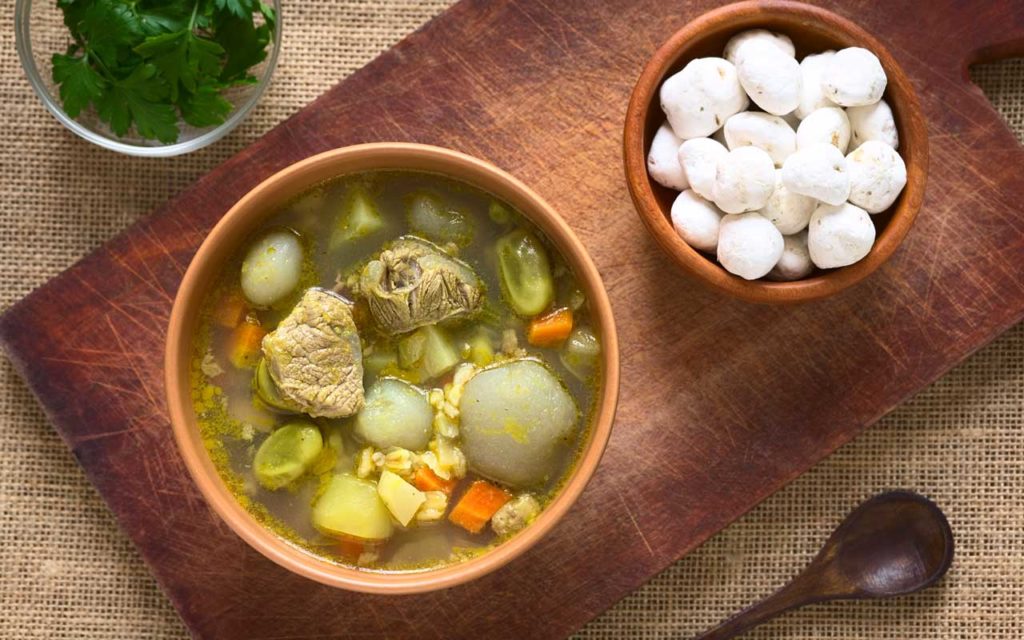 It utilizes the chuño, which is a dehydrated potato that has been prepared and eaten by the mountain-dwelling indigenous tribes since before the Spanish conquistadors arrived.
The soup is a simple beef broth with chuños, carrot, peas, lima beans, and cutlets of beef, and it is topped with chopped mint for a refreshing traditional flavor punch.
Pique a lo Macho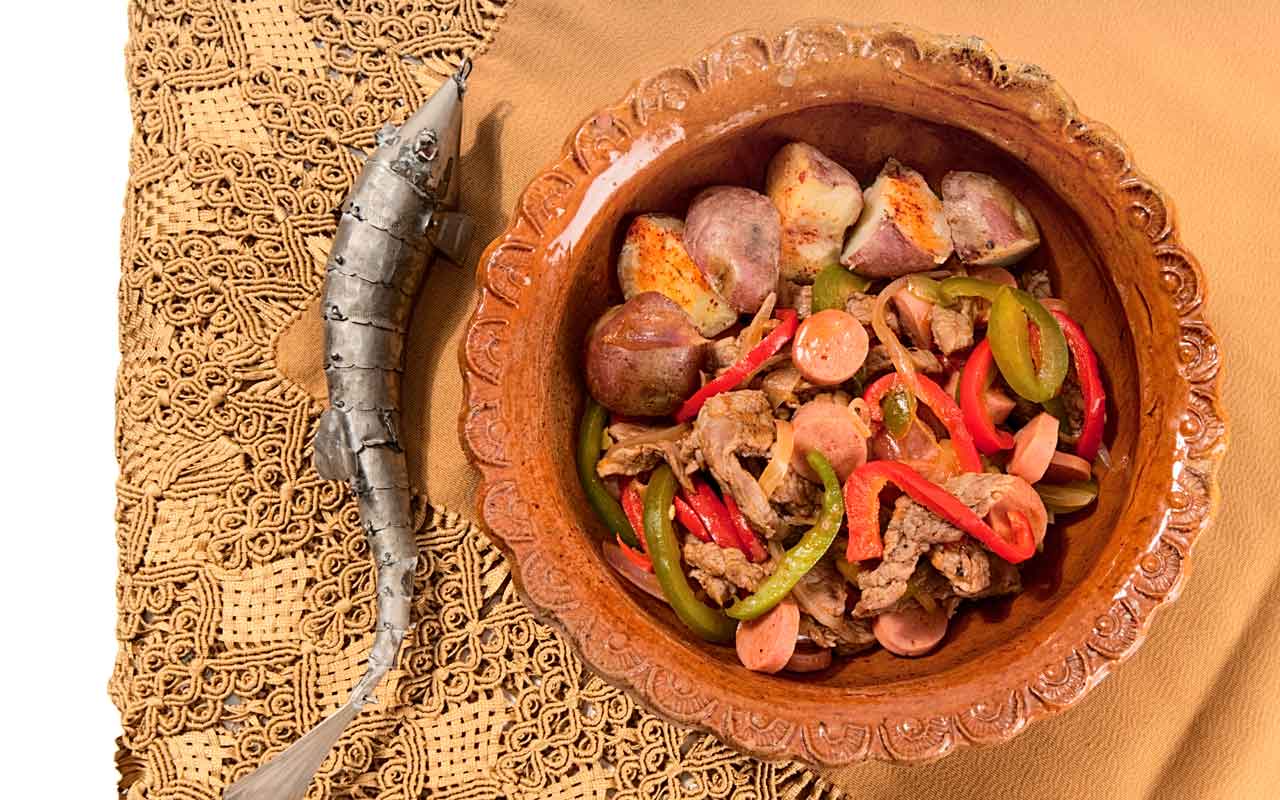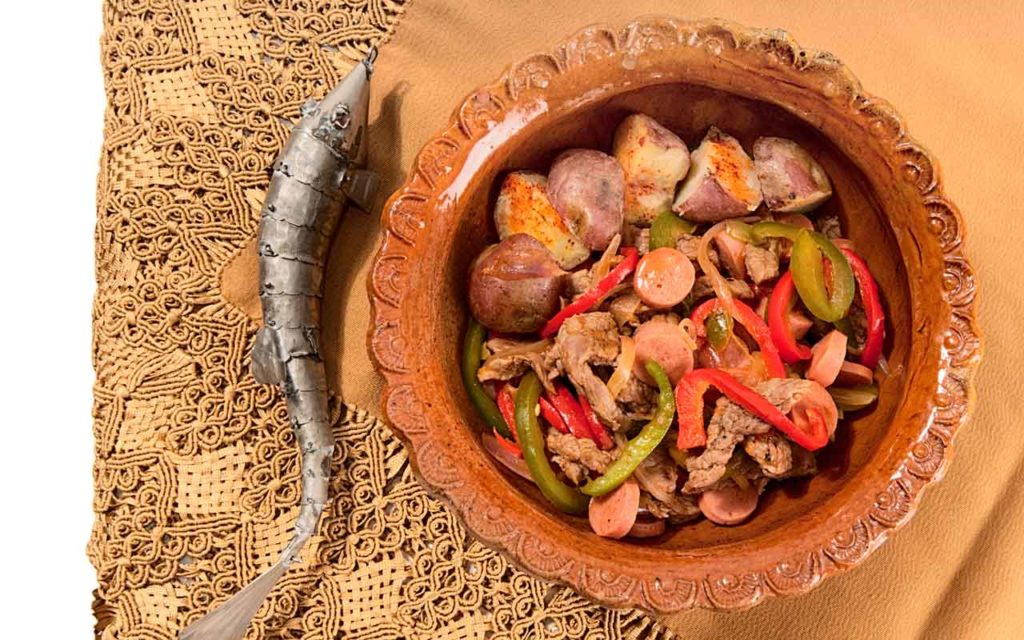 Pique a lo macho is a monster-sized dish that combines cubed chicken, beef, and sausages in a chunky sauce of bell pepper, onion, and tomato.
It is served on top of a plate of fries and rice, then topped with boiled egg.
Some people add ketchup, mayonnaise, and mustard to top it. This dish is not for the faint of heart, you must be macho for this one!
Chicharrón de Cerdo
This is a pork dish somewhat similar to Fritanga de Cerdo. It originated in Cochabamba, where chefs cook it on weekends and prepare it in front of the costumers who then eat it. The meat is cooked for a long time in a mixture of its own fat and chicha (an alcoholic drink made of corn). It is also served with corn and potatoes, but unlike Fritanga, it does not come with a spicy sauce.
Mondongo
Mondongo is another pork dish. The meat, which still has a lot of fat on it, is cooked in a sauce with onions, chillies, cumin and various other herbs and spices. Sometimes, people add yellow colourant. Mondongo is then served with potatoes and, as you would expect, corn. But as you can see in the picture above, you can also get it with rice.
While mondongo is a dish typically served at All Saints Day, you can get it all year round at marketplaces everywhere in the country.