It's best not to visit Argentina if you're on a diet, the food is simply too good to resist. The pastries, the pizzas, the dulce de leche and of course, the famous meat! Numerous cuts, various cooking styles, and an array of delicious sauces to drizzle on top. It's nothing short of heavenly. With influences from Spain, Italy, and France, the food has a distinctive Mediterranean taste that blends seamlessly with traditional Latin flavors. It's rich, hearty, indulgent, and deliciously moreish. Here's our guide to some of the best food in Argentina.
Food In Argentina – The Top Dishes You Need to Try
Asado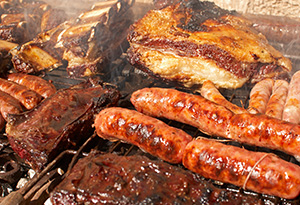 Asado, which literally translates to barbecue, is a great way to enjoy Argentinian meat. A typical Asado will have all kinds of meat grilled to perfection. The best way to experience it is with the locals as it is an important social event in Argentina that brings together friends and family. An Argentinian home provides the ultimate Asado experience, but if you don't get the chance there are some restaurants that serve a parrillada (everything on a small portable grill right in front of you).
Choripán: Quick and Casual
Choripán is a chorizo sandwich. Chorizo is grilled, split down the middle, and served on a baguette or marraqueta roll. You may find some choripáns served as at your Asado! If you want your taste buds to explode, slather your Choripán with chimichurri. This is a spicy sauce similar to pesto. Choripáns may also be served with salsa. Choripáns are commonly found at sports venues and street festivals. They're an easy-to-eat food on the go and popular lunchtime choice.
Chimichurri: The Go-To Condiment
Chimichurri is Argentina's pesto. It's served on grilled meats and used as a dipping sauce. It's commonly found on choripáns and empanadas.
There isn't a set recipe for chimichurri as every Argentinian likes to add his or her own flare to the sauce.
Typically, it incorporates parsley, garlic, olive oil, oregano, vinegar, and chili pepper.
You'll find chimichurri at an asado or served with your bread basket at a restaurant. Or you can buy chimichurri online. It's Argentina's go-to condiment.
LOCRO
This was our first example of better late than never while eating in Argentina! After traveling through Argentina for over a month we finally had Locro on our last night in Buenos Aires. It was hearty, delicious, and perfect for a chilly spring night at San Telmo Market. This thick soup is popular around the Andes Mountain range and is eaten in Argentina, Peru, Bolivia, Ecuador, and Colombia. Honestly, it was bitter sweet to try this typical food in Argentina on our last evening because it was so good!
ROOT VEGETABLES
While many of the most popular foods on our Argentina food list are meat-related there are also many yummy veggies dishes that we had. There isn't one name in particular, but we want to reassure veggie lovers that you will have options! In Patagonia, there are tons of root vegetables that we ate grilled, in soup, and stuffed with all kinds of delicious fixings. Most of the dishes come topped with cheese though, so if you're looking for something vegan make sure to ask with no queso!
Alfajores
Argentina is said to be the world's largest consumer of alfajores, crumbly shortbread-like biscuits sandwiching jams, mousses or dulce de leche. Alfajores' roots lie in the Arab world, brought to southern Spain by the Moors. Spaniards later carried the sweets to Argentina – and no one has looked back since. Akin to their national cookie, Argentines indulge in these cylindrical biscuits throughout the day and across the country.
Yerba mate
It was indigenous populations in South America that first used and cultivated yerba mate, prior to European colonisation. A herbal- and caffeine-infused drink, you'll find it filling everything from to-go cups to shallowed-out squash gourds across the country. Leaves from the yerba mate plant are dried, chopped and ground into a powder, or steeped as whole leaves into hot water. Drinking yerba mate is a social practice and the gourd, fitted with a metal straw that doubles as a sieve, is often passed around a group, each person sipping before passing.
Humitas
This is one of the oldest foods in these lands, and was prepared by indigenous communities, whose diet was based on corn and potatoes.