My maternal grandparents are from Guadalajara, Mexico, so growing up, there wasn't a dish in my household that didn't feature a bit of Mexican flare — even if it was just a dash of my mom's homemade hot sauce. While some local dishes, such as tacos and quesadillas, are incredibly well known, there are many other Mexican basics that are slightly more under-the-radar. Here are mouthwatering Mexican foods you need to eat.
Mexican Foods – Things You Have to Eat in Mexico City
Chilaquiles
This popular traditional breakfast dish features lightly fried corn tortillas cut into quarters and topped with green or red salsa (the red is slightly spicier). Scrambled or fried eggs and pulled chicken are usually added on top, as well as cheese and cream. Chilaquiles are often served with a healthy dose of frijoles (refried beans).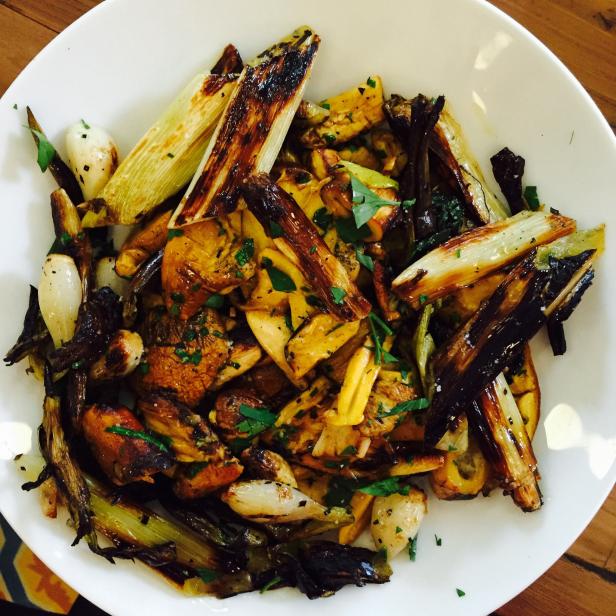 Chef Jair Téllez is as much an undeniable fan of the pig as any of the Southern-born chefs I love in Atlanta, so expect pig's ears and other swine delicacies to show up on the menu. But he also has a particular way with seemingly simple ingredients, giving a rustic, pared-back preparation that allows their true flavor and beauty to shine through. Such is the case with a gorgeous bowl of mushrooms Téllez served up at a preview of his newest restaurant. The dish's earthy flavors were the perfect complement to the bracing mezcal Téllez brought out to accompany.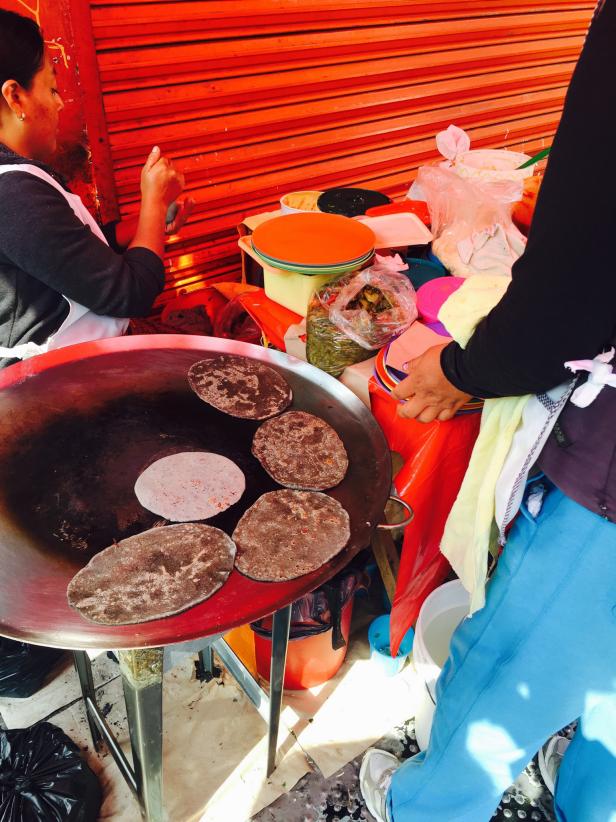 Street vendors in Mexico City and some restaurants also feature this gorgeous, flavorful spin on the traditional tortilla, but in this case made from ground blue corn. Seek them out whenever and wherever you can. You won't be sorry. Part of Mexico's pre-Hispanic food traditions, the diamond-shaped blue corn tlacoyo is cooked on a small metal griddle with a shelf inside for the hot coals and often holds a mash of fava beans and cactus salad and cheese. But it is that magical taste and color of the blue corn that transports this dish to another place entirely. Look for the lovely women, Rocio and Yvonne, hunched over their cook stove and handing over these tlacoyos at a street stand near Calle Lopez, to experience some of the most memorable tlacoyos in the city.
Panucho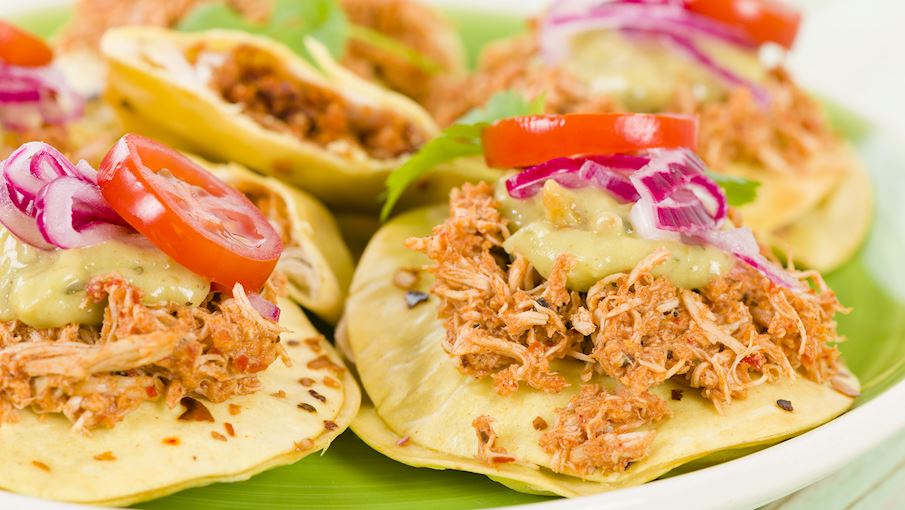 Panucho is a Yucatan specialty consisting of a tortilla topped with refried beans, acting as the base of the dish. Other toppings are left for the cook or the customer to decide according to preferences. It can be anything from cabbage, tomatoes, avocados, and onions to shredded chicken, fish, and pickled hot peppers.
Traditionally, panuchos are served warm at panucherias, small restaurants specialized in making the dish.
Queso fundido
Queso fundido is a tasty Mexican comfort food dish that is typically served as an appetizer. It consists of pieces of chorizo, tomatoes, onions, poblano peppers, and gooey, stringy melted cheese. The dish is often prepared tableside in restaurants, where it is flambéed and presented bubbling hot in small casserole dishes.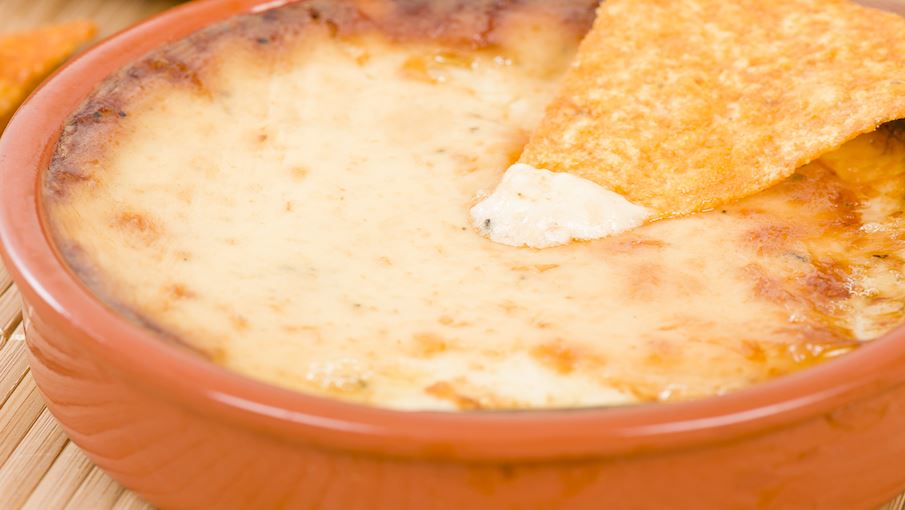 Queso fundido is traditionally spooned onto soft corn tortillas so that it could be eaten individually, as the dish is typically shared between groups of people, making it a great party food as well. It originated in northern Mexico, where it was originally prepared as a campfire dish.
Aguachile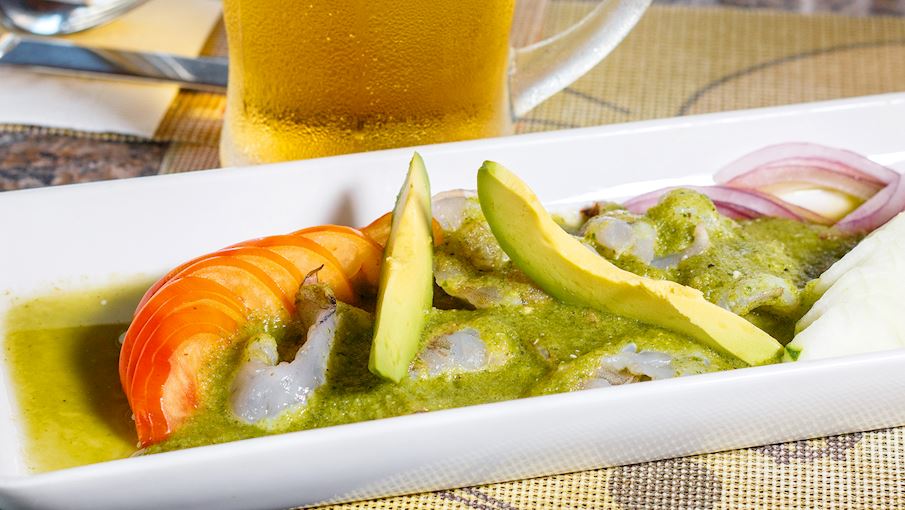 Aguachile is a simple dish originating from the Mexican state of Sinaloa. It is a type of Mexican ceviche that (in its most classic version) consists of fresh raw shrimp, cucumber, red onion, lime juice, and water-pulverized chilis, giving the dish its name.
Unlike most ceviches, aguachile is served immediately after coating the shrimp in lime juice, so it is very important that the shrimp is as fresh as it can be. Aguachile is commonly accompanied by avocado and tostadas, while the beverage of choice is usually beer or tequila.
There are also versions of aguachile prepared with octopus and scallops, but those versions are not traditional.
Tacos Arabes
Tacos Arabes is a traditional Mexican dish originating from Puebla. The pita-bread wrappers (pan árabe) are filled with thinly sliced cumin-marinated pork, spicy chipotle salsa, and a sauce consisting of yogurt, lemon juice, olive oil, garlic, and parsley.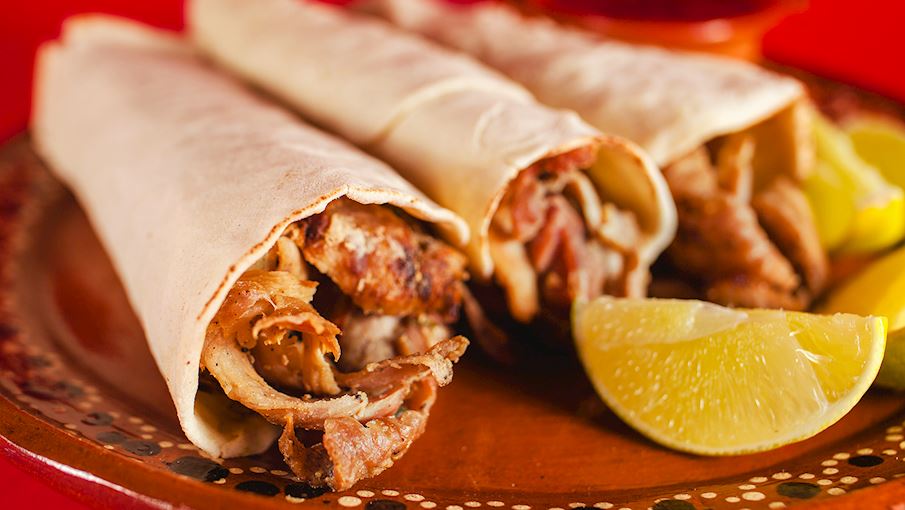 These 'Arabian' tacos are typically served with lime wedges on the side. As the name suggests and many people believe, Middle Eastern immigrants came to Puebla after WWI and brought their shawarma-related culinary tradition of serving sliced roasted lamb (it was replaced with pork in Puebla) in pita bread.