Getting a tattoo is sort of like a ritual. It can be a step to remember a new love, a makeover, or just an expression of art. Another ritual that follows is covering it up – whether for work or to forget an ex. There are simple ways to hide a tattoo like using your hair, wearing gloves, long-sleeved tops, full-length pants, or undergoing a laser treatment. But all of these are time-taking, expensive, or inconvenient. This is where a tattoo concealer can become your best friend. A tattoo concealer, often used by makeup artists, covers tattoos, skin blemishes, and scars. In this article, we have listed the best Makeup To Cover Up Tattoos. Scroll down to check them out!
The Best Makeup To Cover Up Tattoos, From People Who Cover Tattoos
For Hard To Reach Tattoos (and Victoria Secret Angels)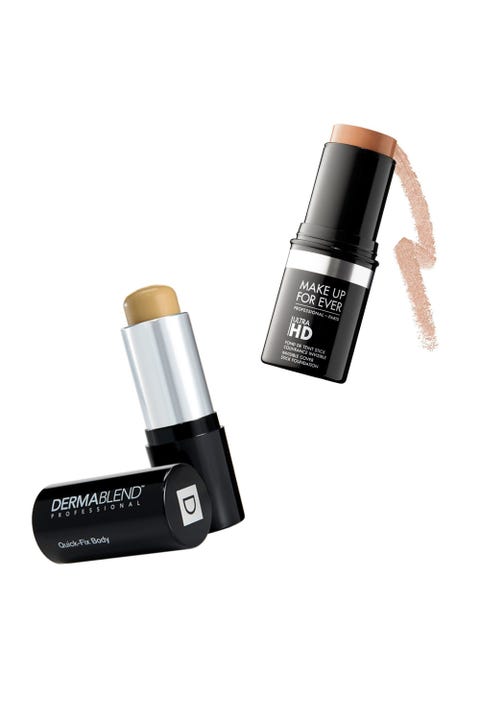 Celebrity makeup artist Ana Marie Rizzieri is used to covering up tattoos for Victoria's Secret models. She suggests using Dermablend or Makeup Forever Makeup Sticks. The sticks allow for easy application in traditionally hard to reach places. (A common problem for lingerie models with ink.)
For Concealers That Double As Tattoo Cover Ups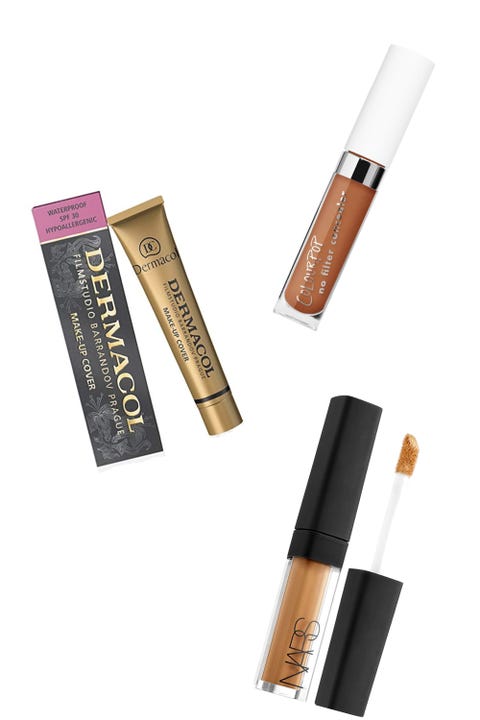 Tattoo-haver and makeup enthusiast Amaal's favorite products include Dermacol Foundation, NARS Radiant Creamy Concealer, and Colourpop's No Filter Conceraler. Amaal suggests using a primer, like Fenty Beauty's Primer, to create an even surface. Next, apply the foundation, and top with a setting spray so your cover up stays in place.
Tatjacket Tattoo Cover Up Liquid Concealer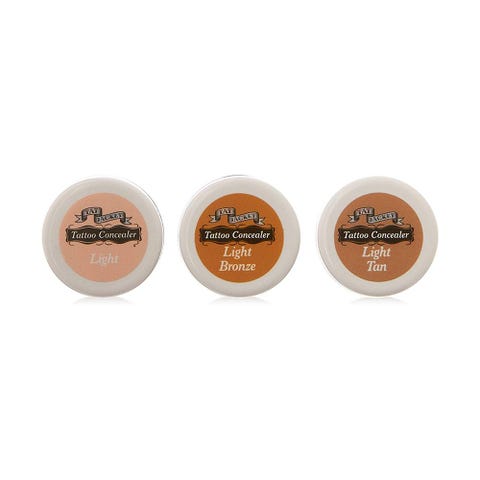 Tatjacket offers heavy coverage that's specifically formulated for tattoos!
Editor Danielle St. Pierre found that it effectively hides dark ink when you combine a base concealer with two layers of Tatjacket. She was able to wear it for a full 8-hour day, and said the texture was "thick, yet moveable, which made blending very easy."
This was also the only product we tested that didn't rub off easily! The main drawback is that there aren't many shades available, so you may have to mix two together to get the right match.
Dermablend Leg and Body Makeup Foundation with SPF 25
Someone asked us the other day, "How can I cover up my tattoo for my wedding?" We recommended Dermablend's leg and body foundation. It lasts up to 16 hours when you set it with Dermablend powder.
Similar to the stick foundation, the cream comes in a variety of shades. It's made for active wear as it resists smudging and transferring and has sunscreen.
Dermablend Cover Creme Full Coverage Foundation with SPF 30
The Dermablend Cover Cream layers nicely to cover ink with minimum effort. Furthermore, it won't cause you to break out as it's hypoallergenic and non-comedogenic for sensitive skin.
It lasts up to 16 hours if you use Dermablend's Setting Powder.
Dermablend Quick-Fix Color Corrector Powder
Dermablend recommends Color Corrector Powder if you have bright and bold ink to cover. The powder comes in 4 shades: green to hide red, red to hide green, yellow to minimize purple, and orange.
Brush on the powder to minimize the colors, then use concealer and foundation as usual.
Boo-Boo Cover-Up Concealer
The Boo-Boo Concealer isn't supposed to be used on fresh tattoos, although you can put it on cuts and pimples that are healing. It contains Vitamin E, tea tree oil, green tea, chamomile, along with plenty of pigment.
With those ingredients, you'd think that it would make for a good aftercare balm. But please, don't use it for that. If you must hide a new tattoo that's healing, use a bandage and then remove that as soon as possible.
On the other hand, talk to your dermatologist about using this concealer if you're doing laser tattoo removal.
L'Oréal Paris Makeup Infallible up to 24HR Fresh Wear Liquid Longwear Foundation
L'Oreal's Infallible foundation is handy for those on a budget. It's much cheaper than some of the other options we've listed.
Another bonus is that this makeup comes in 30 shades so it can match almost any tone. Plus, you can blend two colors together if needed.
If you set it with powder, the foundation can endure up to 24 hours. It resists transferring and sweat.
Westmore Beauty Body Coverage Protector
The Westmore Beauty Body Coverage Perfector works as an illuminator and camouflage to cover skin imperfections and tattoos. It is formulated with tri-effects technology that provides buildable coverage for 24 hours. This product is waterproof and imparts a natural glow to the skin. It can be used on the arms, legs, and décolleté. It evens out the skin tone and makes it look young.